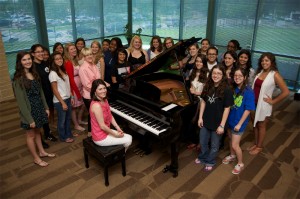 Kimberly Tobola began her musical career at Lanier Middle School at the age of 13. In 2001, she returned to the Lanier choir room as Director of Choral Activities where she currently conducts 6 choirs.  Under her direction, the Lanier choirs have consistently received Sweepstakes ratings at UIL, participated in Houston Chamber Choir's "Hear the Future" Invitational, appeared as demonstration choirs at University of Houston's Kodaly Institute and received superior ratings and Best in Class awards at local festivals and contests.
In the interim, Ms. Tobola received a BM in Vocal Performance from Baylor University where she studied with Karen Peeler and Joyce Farwell.  She completed a MM in Vocal Performance and her doctoral coursework at the University of Cincinnati College-Conservatory of Music where she studied with Barbara Honn as a Corbett Scholar.
In addition to teaching at Lanier, Ms. Tobola has been on the faculty of American Festival for the Arts as a conductor for the middle school choir summer program. Ms. Tobola is proud to be a founding member of VOX, a professional choral ensemble,  and also serves on its board.